The Murray River Adventure
March – April 2006
2224klm, 6 weeks
from the Hume Weir NSW to the sea in South Australia.
It was March 2006 and we set up the 4.75m Stacer Baymaster (aluminum) Trailerable with a 50 hp Johnson oil injected motor and a 15 hp Suzuki (auxillary) as our multi purpose vessel to follow the Mighty Murray from the first point that enabled this size boat to navigate to the mouth. Further up stream it would have needed a flat bottom punt or a canoe to negotiate from the start of the river in the Snowy Mountains to the Hume Weir.
After a trial night out on the Edward River at Deniliquin we came home and made some changes to enable us to complete the trip in approx 6 weeks with some sort of comfort.
We added some brackets that hung onto the outside of Hull, 1 for a tub that held all the food, another that contained all the crockery, cooking utensils and bits and pieces and another bracket that held a large kitchen tidy for our garbage. The bait box on the stern was swapped for another tub that held the drinks(most important!) and the fish cutting table had an old caravan 2 burner stove and grill strapped to it.
At night the 2 seats were taken out and thrown on the foredeck and we rolled out a double swag. Also on board was a Porta Potti and a Waeco 12 volt frig that was powered off the outboard. All the components for a comfy trip!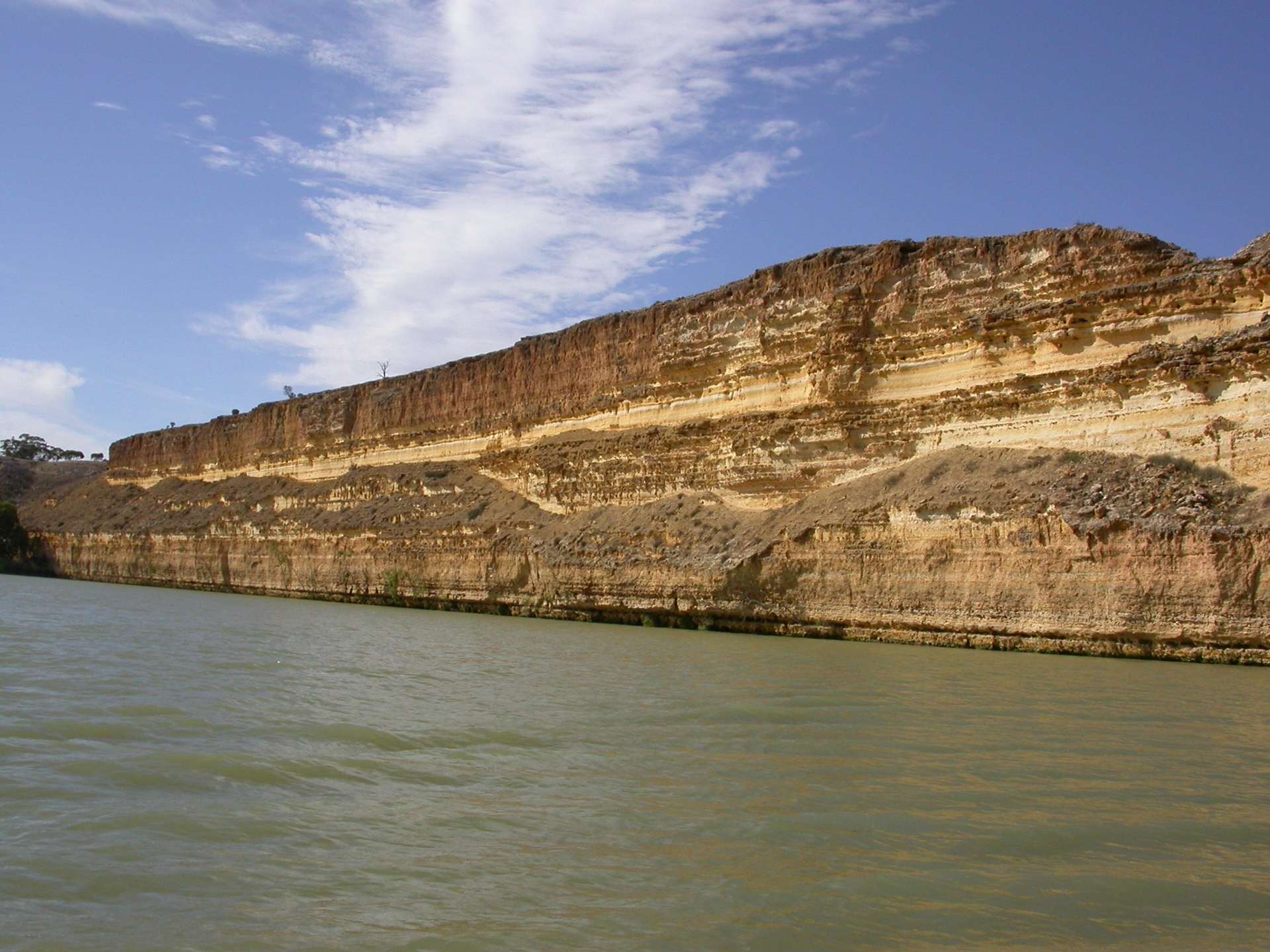 So the trip began . . . . . . . .The Mighty Murray!!
5th March. We left Deniliquin about 9.45am and picked up John Bates, an old mate of Alan's and headed to Albury, where we fuelled the boat, and jerry cans, did our shopping, then left for the Hume Weir. On arrival we set up the boat and put it in the water, with plenty of photos. Then John and Graham took the vehicle and empty trailer home and we left the Weir for the sea, 2,224 klm away at 2.15pm.
3.10pm we went under the Mungabereena pump station and bridge, where lots of people were jumping from the bridge and swimming, passed Huon Hill then Wodonga Creek at 4.20pm, then the new Albury Wodonga freeway bridge, then the old bridge and passed Hume Park in Albury with lots of people and kids swimming, and our first paddle steamer "Cumberoona" at 2198 klm. We continued on to 2172 klm and had our first night camped on the Victorian side with a chicken salad for dinner, Alan set the yabby pots with soap as bait and put them in, checked them before bed but nothing. 52 klm for the day. 5hr-15m travel time. Average 9.9 klm with a 2 kt current.
6th March: Checked the pots but nothing, had breakfast, Alan asked what was different with the fruit on breaky, said it tasted sweeter like apricots. After breaky I checked the garbage and it was apricots. We laughed about ducks feeding with their bums up, while we were doing the same thing rolling up our swag with our naked bums up in the air. We rolled up the swag and cleaned up and left at 9.15am for our days trip. Spent all day going North and South, but all the time heading West. At 6.20pm we found a campsite out of the wind and I started dinner of venison and vegies, whilst Alan put the yabby pots in, he then had a shower, and we sat back with a bottle of wine and enjoyed dinner, washed up, and then I bathed in the river. Before bed Alan checked the pots, and had a dozen chrimp in them. 2000 klm to the sea.
72 klm for the day. 9.00hrs travel time. Average 8 klm per hour. Put 40 Lts of fuel in.
7th March: Had a very cold night, had to put the towels over us during the night, me anyway. We couldn't get the hot water going so washed in the river, had breakfast, emptied the toot, started the generator as we had flat phones. We entered Lake Mulwala to a sea of dead trees and navigated through the channel, with 121 new Port and Starboard markers in 2002 making it very easy to get through. As there isn't a lock at Mulwala to get below the weir, Alan was hoping to get a fisherman with his trailer to take us from one side to the other, but its blowing 30 plus knots and there isn't any fisherman at the boat ramp, so we went to the next one and still nothing, asked a couple of boats but they couldn't, then a fisherman was heading back to a boat ramp and said he could, so we followed him in. His trailer was small but Alan wasn't going to let him go, so on went the boat, Alan through the tubs in the boat and 5 minutes later we were in the water at the bottom of the weir, then the man took Alan to the servo and he filled the jerry cans up and dropped him back , and with a very big thankyou he left, then Alan tried to put the tubs back over the sides and couldn't lift them, so he had to empty half the stuff out, wondering all the time why he could lift them one minute and not another, adrenalin is a funny thing. We went about 5 klm downstream from the weir and stayed for the night. 1976 klm to the sea.
22 – klm travel for the day. 3.00 – hrs travel time. Average 7.3 – klm per hour.
8th March: Another magic morning. We left at 8.30am after a comment from Alan how we were on time. So started the motor and put it in gear, but we didn't move, stuck in the mud Alan said, so lifted the motor and played a bit, put it back in, still not going anywhere, Oops then he realised we were still tied to the tree. After heeps of laughter, sore bellys and tears we left the tree behind. We stopped for lunch, and had a wash and shampoo, the flies were very bad. At 5.40pm we arrived at Tocumwal. Alan walked to the nearest servo but it had closed down, so he came back and got talking to a bloke in a ute, he asked him were the servo was and the guy took Alan up and he filled the jerry cans and brought him back, thank you very much again. We left to find a camping area for the night which we found about 2 klm downstream at Ardley Beach. Added 80 lts
Had 1884 klm to the sea. 92 klm travel for the day. 9.00 – hrs travel time. Average 10 klm per hour.
9th March: On the go again headed for Picnic Point, we rolled the swag, untied the bow and stern lines, makes a change from yesterday and started, we did our morning jobs on the way. Arrived at at the boat ramp at 3.30pm. At 5.15pm mum and dad arrived in their motor home after a visit with Graham in Deniliquin, we had drinks mum supplied dinner of curry and we bought the wine. After dinner I cut Alan's hair and beard, a bit risky after happy hour and wine for dinner.
40 – Lts of fuel added. 1790 – klm to the sea. 94 – klm travel for the day. 8.00 – hrs travel time
Average 12 – klm per hour.
10th March: We were able to empty the rubbish bin for the first time 11.05am Left late as we had breakfast with mum and dad and then I cut and blow waved mums hair, they took a photo of us in front of the boat and then we left, as Alan was getting into the boat and swung his legs in a frog came in as well out of the shallow water. About 2pm Alan pulled over to the Victorian side of the river bank at Barmah and said ill be back in a minute come back for me, I motored around out in the middle and then saw him coming down a rocky metal ramp, jumped on and I motored off to a big smile and an Eskimo Pie yummmmmm. We found Ando and Jeanette, great friends from Moama, camping on the river bank and had a great night with them, had dinner about 11pm and went to bed.
1726 – klm to the sea. 64 – klm for the day. 6hr-30m travel time. Average 9.8 klm per hour.
11th March: Its Alan's birthday to day.
10.30am Left after a sleep in and a big breaky of sausages, bacon and eggs, a cuppa tea and a clean up. The river this morning is alive with houseboats, speedboats and campers on every bend and available spots, its a long weekend for Labour day or some shit says Alan. We arrived in Echuca about 12.15pm and meet Ando and Jeanette who lent us a car to do our shopping, which made it easy, many thanks. We left Echuca at 2.45pm it was very hot. Plenty of swims for the day.
We arrived at Deep Creek Marina at 7.30pm had a wonderful dinner at the restaurant then tied to a pole at the end of the marina for a good night's sleep.
1660 – klm to the sea. 75 – klm for the day. 6hr-30m travel time. Average 11.5 – klm per hour.
12th March: Left at 9.50am after a relaxing and cleaning time. We arrived at Torrumbarry Weir at 1.10pm and organised the lockmaster for a 4.00pm trailer trip around the weir. While waiting I did the washing at the caravan park near the weir, and the drying, I hung it around the boat, we are now living on board a chinese laundry vessel. We stopped 5.40pm for the night at a beach on the NSW side about 4 klm from the weir. Added 40 lts.
1626 – klm to the sea. 34 – klm for the day. 3hr-30m travel time. Average 9.7 – klm per hour.
13th March: The high temperatures until late last night bought the rain thru the night and an overcast and showry day, so we laid in bed and listened to the rain on the tarp. Had scrambled eggs for breaky, showered and washed the hair, then left at 11.30am. the river was back to its sleepy self today, after all the speedboats and houseboats of the last three days. The day flew past as did the river, I started cooking at 6pm as Alan wanted to do another 30 minutes or so, trimmed lamb cutlets with Hassellback potatoes, corn cob, pumpkin, beans, broccoli, it was delicious, with a bottle of wine and a laugh a minute we had to go to bed with sore bellys again. Added 40 lts
1550 – klm to the sea. 76 – klm for the day. 7.00 hours travel time. Average 11 – klm per hour.
14th March: Awoke to a cold morning with the mist rising off the water, got up took some photos and cleaned up and left at 10.10am. Stopped up stream of Barham when we meet "Fraid Knott" doing the same trip. Cynthia and Kevin are doing it much slower than we are, staying at caravan parks in towns for a week or so, then going to the next place and doing the same. We meet them at the caravan park in Barham then went to the pub for a counter lunch, after lunch I went to the beauticians beside the hotel, then back to the pub and got Alan, said good buy to Kevin and Cynthia and went to the butchers shop where Darby, a mate of Alan's works, he made up packs of "special snags", very nice. Departed 4.05pm and stopped for the night at 6.10pm. Added 20 lts.
1504 – klm to the sea. 45 – klm for the day. 4hr-30m travel time. Average 10 – klm per hour.
15th March: Departed at 8.20am after a great nights sleep and a fantastic little campfire last night. Alan put his thongs on the front of the boat last night and this morning one is missing, but while cleaning up I spyed it in a fallen tree branch, just as well as we would have been looking for it all the way downstream today. Today is overcast, rainy with thunder and sunshine all within an hour, next hour was rain and more rain. I made pikelets for morning tea. We met David, Anna and Leila from Brisbane paddling in Sea Kayaks to the river mouth. Photo 46-49
We made it to Swan Hill at 5.30pm and tied up just near the bridge after a chat with Bill, of one the cruise Boat opperators, another friend of Alan's. We decided to walk up and dine out tonight, chinese won, a beautifull meal, and back to the boat and bed about 9.00pm. Added 20 lts.
1410 – klm to the sea. 94 – klm for the day. 9.00 hours travel time. Average 10.4 – klm per hour.
16th March: A sleep in today, got up at 9.30am and when making the cuppa the gas ran out, so we decided to have breaky at a little cafe, with bacon and eggs and a cuppa, it was good. When we got back to the boat there was three drunken people there, wanting to know what was going on. When they left Alan went to the servo and filled the gas bottle and jerry cans. We departed at 1.00pm it was cool, sunny day with dark cloud patches. The river past the bridge became very shallow, and a lot of clay bars that run right across the river, ment that Alan was in the water more than in the boat, pushing us over the bars. Then we came to the Bitch and Pups, an island with several smaller islands, that every one told us about and to be very carful, you could see the water dropped up to two metres over two hundred metres, with plenty of white water. So down the rapids we go and get almost to the bottom and we hit the rocks, throughing the boat sideways and came to a stop, with the water building up on the side of us, over the side goes Alan and swings the boat into the current while I was on the motor, we slowly got the rest of the way and away we went. We stopped at 6.10pm for the night, lit a fire had a few drinks made dinner, spoke to Roger and Shirley on the phone and took some photos of the sunset. We were very stuffed. 60 lts added.
1366 – klm to the sea. 44 – klm for the day. 5hr10m travel time. Average 8-klm per hour.
17th March: It was a very cold morning even frosted the windscreen, Blue and Green Budgies came down to the river for a drink, as I made pancakes for breaky and we departed at 9.30am, water temp was 21deg. We took the long way around Murphy's Island and I prepared a tuna salad for lunch. Having just finished Alan was navigating his way along when in 7-8mts of water the bow rose ever so gracefully up on a clay bar, "just like a seal sliding up a rock" says Alan, tried to reverse but didn't move, so Alan striped off and over the side he goes, not knowing if the water was going to be 8mts deep or to his ankles, it was half way to his knees, lots of laughs. He pushed us off and we arrived Tooleybuc at 2.20pm and got some groceries and fuel, in both places the staff had no personality and obiviously didn't want to be there. We left 3.30pm and found a good sandy beach and fired up the shower, did some fishing, with no luck and dined on Lamb Shanks and vegies. Added 20 lts.
1300 – klm to the sea. 66 – klm for the day. 8 – hours travel time. Average 8-klm per hour.
18th March: Another magic day in paradise, a sleepin and another indulgence in a hot shower and shampoo, the hair is starting to feel better. Departed at 10.20am, lots of sandy beaches and lots of sapling growth on the banks. Arrived at Boundary Bend 5.30pm, went to the shop and departed at 6.05pm and found another great beach for the night. We put the generator on to charge the phones and camera, had dinner, and celebrated our first 1000klm and two weeks on the river,with a drink or two, and listened to the Commonwealth Games on the radio, then retired about 9.30pm late for us. Added 40-lts
1224 – klm to the sea. 76 – klm for the day. 7hr-40m travel time. Average 9.9 klm per hour.
19th March: Departed at 10.25am, at lunch time we had a phone call from Graham, my 4 wheel drive had caught fire and burnt, a write off, anyway can't do a thing about it. We travelled on and found a campsite at 6.30pm, Alan did some fishing, and I made dinner, we set up the table and generator on the bank, we dined out…… of the boat that is….. went to bed 9.30pm.
1148 – klm to the sea. 76 – klm for the day. 8.00 hours travel time. Average 9.5 – klm per hour.
20th March: awoke at 7.30am and got up at 9.00am, fixed the swag as the foam had moved, hot showered and had breaky, we had 24 klm to get to Robinvale. We stopped here at the Riverside Caravan Park, a beautiful park right on the river, beside the bridge. We fuelled up and went to the supermarket nearby, and got some groceries, and filled the water drum. The guy at the park was very helpful. At 2.40pm we left the park and proceeded to the lock, after trying all day to get the lockmaster we finally got him, and booked the lock for 3.00pm. The only instructions from him was "no need to tie up, just keep to the rear" within 15 minutes we were motoring on the other side. The water was much shallower and lots of sand beaches. We picked one for the night, did some fishing, caught 3 nice Yellowbelly, put 3 back as we had enough, but one kept floating so we kept it as well. Went to bed at 9.45pm Added 40 – lts.
1086 – klm to the sea. 62 – klm for the day. 7hr-30m travel time. Average 8.2 – klm per hour.
21st March: A cold start to the day, wind was up by 7.00am, had a cuppa as the kangaroos came down for a drink. We decided to get up and start moving, we left at 8.00am and I did the washing up from last night and we had breaky on the move. We stopped at Wemen and Alan mountained climbed up the bank to the service station for fuel. The day grew hotter and hotter and about 3pm I called pull over and jumped in for a quick dip and cool off, then back in and off we went. Met some more Kayakers who were paddling the river in stages. They paddle approx 50k's a day for a week or two, then back to work, then do some more of the river when they have time off. Stopped at a beach on Buxton's Bend for the night, but in the water was a lot of mud and logs. Added 20 lts.
976 – klm to the sea. 110 – klm for the day. 10hr-20m travel time. Average 10.6 klm per hour.
22nd March: We had showers through the night, but woke to a beautiful sunrise, the skipper was amiss and didn't think about the direction of the boat to the sun and it beamed into our faces. We rolled up the swag and had a beautiful hot shower. The motor had a cold today and by the time we reached 966 klm it wasn't getting any better so we found a beach and pulled up. Started playing with this and that to no avail, so I rang dad, for a brain storm session, the spark plugs were quit dirty so Alan cleaned them and we are running fine again, stopped only 30 minutes. At 2.oopm we run out of fuel so added 40lts. At 6.15pm we arrived at Trentham Estate Winery, we were going to go there for dinner, but they only serve d lunches, so we camped across from them for the night.
900 – klm to the sea. 76 – klm for the day. 8hr-35m travel time. Average 8.8 – klm per hour.
23rd March: Well the skipper choose well!!NOT! We had a putred smell, very heavy constant loud road noise and plenty of eyes in the morning that he invited into our shower. All in all we both slept amazingly well. After breaky we putted across the river for a little wine tasting, and returned after filling our cellar with wine. Departed at 11.40am for Mildura and a shopping and laundry stop. Stopped and looked at Gol Gol for a few minutes then continued. 1.45pm we arrived at the wharf in Mildura. We spent the afternoon shopping and at 4.40pm rang lock 11 tho go thru…. our luck it closes at 4.30pm, so we booked for 10.00am tomorrow, went over to the caravan park on the water and took our washing and paid for a shower, had a beautiful dinner, then retired to bed. Added 40 lts.
888 – klm to the sea. 12 – klm for the day. 2 – hours travel time. Average 6 – klm per hour.
24th March: Awoke at 8.00am to a hot air balloon taking off over the top of us, and a grumpy caravan park owner, although we told him what we were doing and paid, he was not happy we were tied to his (nsw) tree!!! We tidied up and left (no shower) and went to the lock, and went through at 9.00am. 15 minutes later we were on the other side in quite dirt water!! We made many stops today, it was so hot and many swims cooled us down. Arrived in Wentworth at 5.15pm water temp was 26deg. Alan found the servo and filled the jerry cans and the gas bottle, then the manager, after telling him what we were doing, said put them in the back of the ute and he then ran Alan back to the boat , over the levy bank and down to the water, fantastic many thanks. We got dressed and "went to town" up over the bank to the Wentworth Services Club and had dinner, overlooking the river and our boat. Added 50 – lts.
832 – klm to the sea. 56 – klm for the day. 8hr-40m travel time. Average 6.4 – klm per hour.
25th March: Had a wonderfull nights sleep and woke early and on view we rolled the swag and had scrambled eggs for breaky and went in search of some bread and mint jelly before we left the bank at 9.30am for a 10.00am lock 10 appointment. We kept up the pace for the day so we could get through lock 9 by 4.30pm. Had a quick midstream swim to cool off, and arrived at the lock at 4.20pm and Robert the lock master was waiting as we were the last job for the day. On the other side we checked out the camp dad had suggested!! Didn't do anything for us, so we moved further on to the corner and had a swim, had dinner and settled back, when a gunshot rang out, Alan yelled, I wanted to move! He assured me they wouldn't do it again, sure enough 10 minutes later two more shots, so this time we did move back towards the lock near other people. We went down and spoke to them later. Set a springer for the night to catch a cod.
770 – klm to the sea. 62 – klm for the day. 7hr-15m travel time. Average 8.5 – klm per hour.
26th March: Checked the springer and we had lost something during the night, departed at 8.45am and had breaky on the way, between lock 9 and 8 the river was very wide and deep. Entered lock 8 at 1.15pm, and entered lock 7 at 4.15pm, , had a swim and camped just below lock 7, Alan fished and caught one but it decided to jump out of the bucket back in the water. Just on dark there was Emu and Kangaroo coming down to the waters edge for a drink. Added 20 – lts
702 – klm to the sea. 68 – klm for the day. 8.00 hours travel time. Average 8.5 – klm per hour.
27th March: It rained during the night, we left at 8.50am with overcast and stormy skys. Super stunning cliffs at Devils Elbow 682 Klms. Stopped at Customs House for half an hour and took lots of photos to day. Moored at lock 6 waiting area at 6.20pm. Once we have reached SA waters there has been a greater amount of navigation aids from snag bouys to danger cardinal marks and leads.
Rained most of the day. Added 40 – lts
620 – klm to the sea. 82 – klm for the day. 10hr-15m travel time. Average 8 – klm per hour.
28th March: Went through the lock at 8.15 am, then went for 30 minutes and found a beach for breakfast, egg in a hole toast and a cuppa tea, then proceeded to give Alan a beard and hair cut, then shampoo and shower for each, cleaned and tiedied the boat. Had a great spot except for the flies, left at 12.10pm and it took 10 minutes motoring to clear the flies out. Arrived at Renmark 5.30pm, had a drink or two, cooked dinner and cleaned up, then the locals in the pub become very noisy so we moved further along the bank to a willow tree, from here we walked to Woolworths and did our shopping and checked out the servo for fuel, came back and rolled out the swag for a sleep.
Added 20 – lts.
564 – klm to the sea. 56 – klm for the day. 6hr-15m travel time. Average 8.9 – klm per hour.
29th March: Woke up , again to suburbia noise, no privacy, Alan went and got fuel. I went to the Dried fruit shop and Westpac and then we motored to the information centre for a few maps etc. Then departed at 10.20am after a cuppa and Alan yelling "all aboard"!!! I wondered what he was doing, He had seen the frog from Picnic Point jump onto the tree last night from the boat, he was just wondering if he was ready to continue or not!! He had travelled 1226 klm and had lived on board for 20 days. Went through lock 5 at 11.00am, stopped at Berri for fuel then continued onto lock 4 and went thru at 4.15pm. Lock 4 dropped us 3.2m, and it was blowing 15-20kts SW, a headwind, we motored until 6.15pm and found a spot out of the wind for the night.
Added 40 – lts.
502 – klm to the sea. 62 – klm for the day. 8hr-30m travel time. Average 7.3 – klm per hour.
30th March: After a beautiful morning although the temperatures have dropped to 14-15
Just got my cuppa and hot water for dishes and no gas, then I noticed cans of coke had burst in the back container, just got that cleaned up and Alan sat down on his chair and it broke!! They say it comes in three's, Thank god it wasn't my chair, I wouldn't have heard the end of it!! Departed at 9.00am to find a nice beach to shower, then decided to wait until it warmed up a bit. Stopped at Loxton Caravan Park for gas at 11am. Took photos of the giant Pelican at 490klm and stopped at Moorook for fuel. Very nice river camp near town for driving. Got to lock 3 at 5.50pm. Lots of Wetlands either side of the river. Added 40 – lts.
432 – klm to the sea. 70 – klm for the day. 8hr-55m travel time. Average 8.1 – klm per hour.
31st March: Got up, had a cuppa and on the move down to the lock. A very cool morning with a heavy dew and clouds rolling in. Through lock 3 at 8.15am, took a video of Swallows in the reeds beside us. Stopped at Waikerie for the toot and lunch, they have a nice new wharf and garden waterfront. Then we remembered we had to get to the next lock by 4.30pm, so untied ropes and away we went, repositioned everthing in the boat, I had my favourite figurehead (Alan) on the bow and doing 15-17kts we made it to lock 2 by 4.10pm, through the lock we kept going until 6.15pm. We had a flock of Parrots (two tone green, one green was very light almost yellow) a wonderful display of color as they flew over us. Had a campfire, and hot showers on our very own beach, and bed at 11.30pm, very late for us. Added 40 – lts.
345 – klm to the sea. 87 – klm for the day. 10hr-20m travel time. Average8.4 – klm per hour.
1st April: A cool morning and day, we had rain through the night but we didn't hear it, showered, and did the dishes this morning, under way at 9.20am. One important piece of equipment , A MUST HAVE is a fishing net…. we have used it on several occasions to fish the dishes out of the river, today it was a saucepan lid!! Stopped at Morgan for fuel. Alan's words "a dollar F..!!xx sixty a litre" Went through lock 1 at 4.30pm and continued until 6.15pm. Added 40 – lts.
256 – klm to the sea. 89 – klm for the day. 9.00 hours travel time. Average 9.9 – klm per hour.
2nd April: Woke 6.30am wondering which way to put our watches for the finish of daylight saving, put the radio on, but no station would give us the time, so we up and left, with a cool morning and a magic sunrise, then turned the phone on and it was 5.59am, we nealy fell out of the boat laughing. Made it to Pellaring Flat 12klm from Mannum by 5.50pm. Magic sunset tonight. Added 70- lts.
158 – klm to the sea. 98 – klm for the day. 11hr-20m travel time. Average 8.6 – klm per hour.
3rd April: Camped last night tied to a log at the entrance to a lagoon. Slept in, hot showered and breaky before we left at 11.35am. Arrived in Mannum 12.30pm and cruised along the water front with the Murray Princess tied alongside. First up, find the laundry mat, then lunch at Pretoria Hotel, (huge seafood baskets) while the washing was in the machine. Then to the supermarket ,and back to the boat. Helen (a cousin of mine) met us after work and took us back to her place, where we enjoyed dinner before she dropped us back to the boat, for a less than peaceful night, the sprinklers came on at 4am and were very noise each time they went around as they hit the rubbish bins in the park.
150 – klm to the sea. 8 – klm for the day. 1 – hour travel time. Average 8 – klm per hour.
4th April: After scrambled eggs on toast and a cuppa, we had another visit from Helen and then left at 8.45am. At 106klm to the sea, the water was 35.8mts deep in a big hole. Stopped at 5.35pm at Wellington Marina waiting for the fuel to open at 8.00am tomorrow. Twas a rough night as we were tied to the fuel wharf and positioned for the South to South Westerly winds expected, but it blew from the North West and the chop on the water slapped on the stern all night.
76 – klm from the sea. 74 – klm for the day. 9hr-5m travel time Average 8.1 – klm per hour.
5th April: 8.00am cleaned up ready for the fuel to open, but no one turned up, then we found out the whole area had no power, so we decided to head for Wellington, left the marina at 9.00am.
We arrived at the hotel and went to find where the servo was, it was quite a way from the boat, so we moved down to the Old Court House where it was much closer, and went and got the fuel. Went to the Court House and bought lovely hot homemade Pasties. We decided to leave and stick our nose out to see how the lake was!! Not to bad, so motored out to Pomanda Island on the end of a long spit, we thought we were at Port Agnes, just arrived and tucked in amongst the willow trees as the wind went past 30kts and whistled over the top of us as we spent the rest of the day reading, fishing, I caught a European Carp about 10kgs, it went back. Added 40 lts.
40 – klm to the sea. 36 – klm for the day. 4 – hours travel time. Average 8.5 – klm per hour.
6th April: We woke to a still cloudy overcast day with a few squalls around, the decision was made to go at 9.00am, we started the motor and then sat and waited for the next squall to pass and then left, It wasn't to bad, but after half an hour the wind got back up again and we were bouncing into wave after wave. It's a long way across Lake Alexandrina, We lost sight of land behind us and it was a while before we saw land ahead, as per the book, we headed 248deg give or take 10deg for the waves, we eventually came up to land and after taking a few sights we realised we were at Point Sturt. At this stage we were out of fuel, it had taken a full tank to get to here, put some fuel in and then followed the leads down the river, although the rain made it increasingly hard to see. I was drenched, Alan was wet from the waist down, I navigated us to Goolwa Caravan Park through a little channel off the river arriving at 2.00pm. Still wet and dripping water all over their office, we got a cabin for two nights and had a wonderful hot shower and had to wash and dry everything on the boat, even the papers and
money in Alan's wallet was dripping wet. Spent our first night off the boat for one month and one day, and we were nice and warm and dry. Added 20 – lts.
10 – klm to the sea. 30 – klm for the day. 5 – hours travel time. Average 6 – klm per hour.
7th April: We woke warm and dry and cosy in the cabin. The park owner offered to take us to the servo for fuel at 10am this morning. He picked us up and we got the fuel, then he gave us a tour of Goolwa town, beach and Hindmarsh Island development and the bridge, then back to the park, we filled the boat up and left at 12.30pm for Goolwa. Visited Signal Point and filled out the necessary paper work to be added to the National Marathon Register, we then purchased a bottle of wine and a burger each from a cafe and proceeded to the lock. Through there and down to the mouth entering Coorong National Park and past the dredges, we reached the mouth at 3.00pm, anchored in the channel, had our bottle of wine and burgers and a fish then returned back to the caravan park for the night. Added 60 – lts
0 – klm to go. 10 – klm for the day. 1hr-30m travel time. Average 6.6 – klm per hour.
10 – klm to Goolwa 10 – klm for the day. 1 hour travel time. Average 10 – klm per hour.
8th April: We thanked the owners, and left at 9.45am to tackle Lake Alexandrina again, but this time where was only a light breeze and we arrived in Wellington at 1.05 pm. 3hr-25m against 5 hours on the way down. Had lunch at the Court House again, homemade pasties and pea and ham soup, just beautiful. 2.00pm we left for Tailem Bend and a little cottage for the night at Westbrooke Tourist Park. Helen and Tamra meet us for dinner.
69 – klm for the day. 6 hours for the day. Average 11.5 – klm per hour.
9th April: We went down to the boat ramp when Steve and Richard turned up with John Bates's four wheel drive and our boat trailer for the trip back to Deniliquin. Loaded up and left for the 9 hour trip back.
We had travelled for 237 hours and 35 minutes over 35 days.
Averaged 6 hours and 45 minutes per day.
Had done 2224 klms. To the sea.
Averaged 9.36 klm per hour.
Total fuel used 1020 litres.
Averaged 4.3 litres per hour.